What Is an Implant Crown?
Posted by MONTPELIER FAMILY DENTISTRY on May 1 2015, 01:56 AM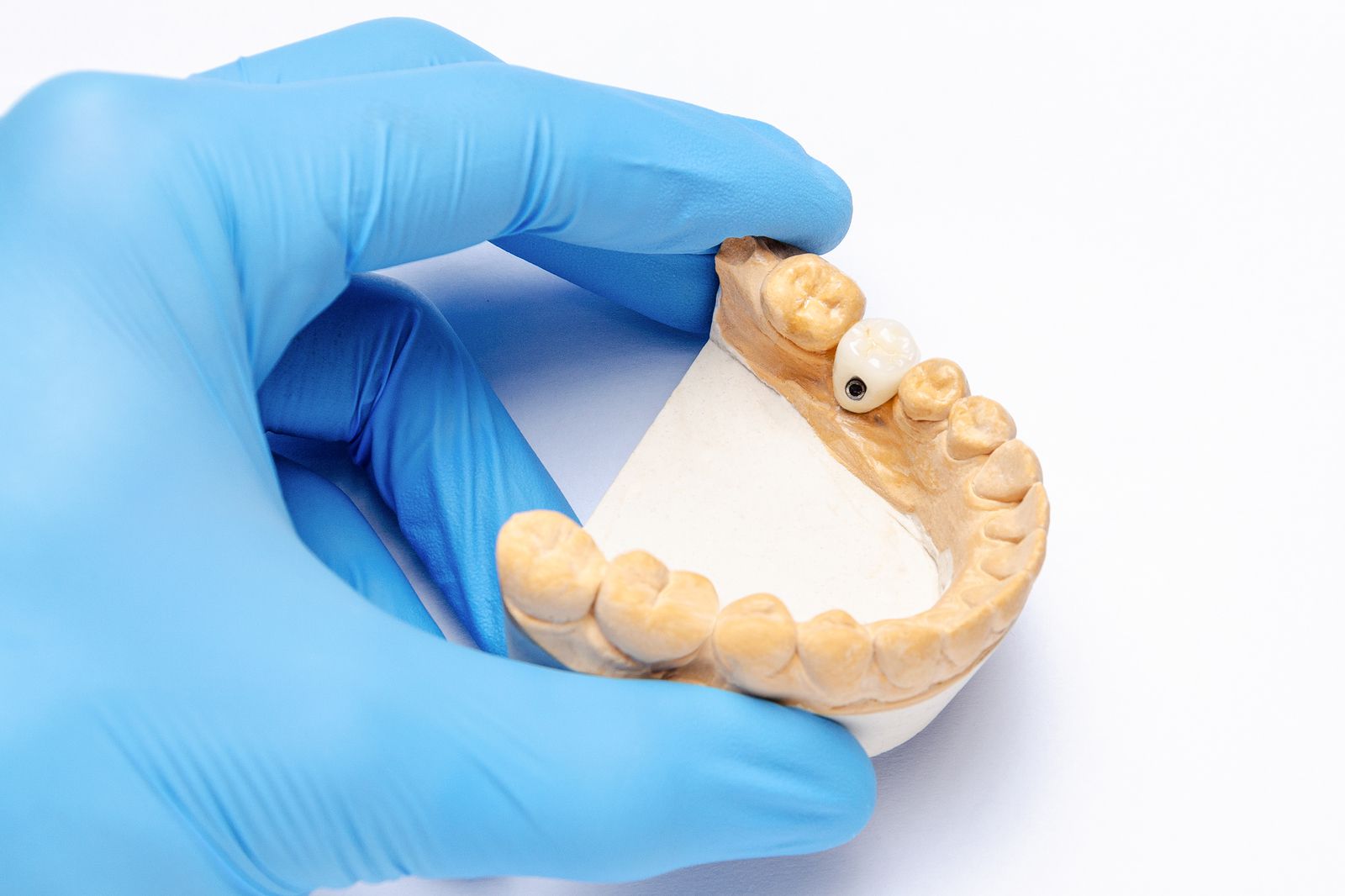 We will place implant crowns? on top of the dental implants to resemble and function like normal teeth. While implant crowns are similar to regular dental crowns, dental implant crowns are a bit different. Conventional dental crowns gain support from the natural root structure of the tooth. Dental implant crowns are the final step of the dental implant placement process.
This crown rests on the abutment of the dental implant (a connecting piece) to look and function just like a regular crown. The abutment is held in position by a screw that moves through a tiny hole within the center of the abutment.
How Dental Implant Crowns are Secured
The dentist will take molds of your teeth and jaw to gauge the amount of gum tissue, bone, and space available for implants. The dentist will surgically position the implant once the area is numb. The implant goes directly into the bone. Time is necessary for the dental implant to heal and integrate into the bone. This process is known as osseointegration and can take upwards of six months.
A second surgery might be necessary to position the post that keeps the artificial tooth in position. Meet with your dentist to determine which approach to dental implants is ideal for your unique mouth. Dental crowns bond in place with permanent cement.
Permanent cement is used to connect the crown to the abutment. This is the same material required for a traditional crown. This process is easier than it sounds. Such an approach reduces the chance of bacteria moving below the implant crown. Alternatively, the crown can remain in place with screws instead of cement.
Caring for Dental Implant Crowns
The edges of dental implant crowns move just below the gum line, similar to crowns on natural teeth. In order to keep the restoration and nearby tissue in optimal shape, patients must practice good hygiene at home. Patients must floss, brush, and visit with the dentist at least every six months.
An oral irrigator will help keep the space clean and void of bacteria. Do not worry about any facet of caring for your dental implant crowns. You will receive specific instructions as you move through the phases of treatment. Dental implants crowns will likely last upwards of several decades.
However, once this period of time passes, it is possible that dental implant crowns will need replacement. In some cases, patients enjoy functional and beautiful dental implant crowns for the remainder of their life.
Why Dental Implant Crowns are so Popular
Plenty of people who need a tooth replaced or another solution for a missing tooth assume dental implant crowns are too expensive and vastly different from regular crowns. Though dental implant crowns are certainly a bit more expensive than regular crowns, they are reliable, strong, and aesthetically pleasing. People will look at your dental implant crowns and have no idea you are using a dental restoration.
Furthermore, you will be able to eat the types of foods you desire without hesitation. Your dental implant crowns can chomp right on through all different types of food, regardless of whether it is sticky, somewhat hard, hot or cold.
Request a dental implant consultation here: https://thelaureldentist.com or call Montpelier Family Dentistry at (301) 605-1132 for an appointment in our Laurel dental office.