Common Symptoms of Sleep Apnea
Posted by MONTPELIER FAMILY DENTISTRY on Oct 11 2022, 06:57 AM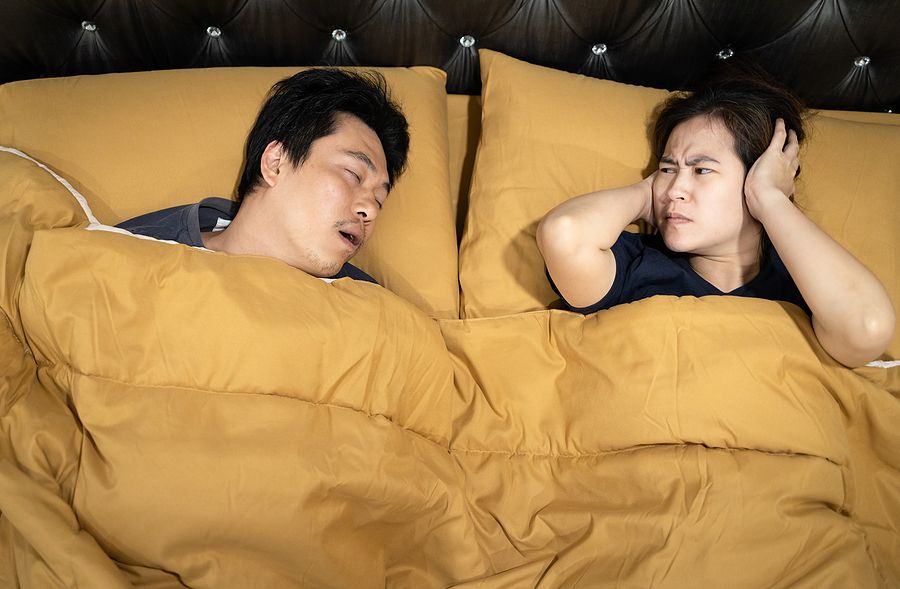 Sleep apnea occurs when the muscles in the back of your throat relax during sleep, causing your airway to become narrow or close. This blockage restricts your breathing, and you move out of deep sleep and into light sleep, and your snoring will wake you up.
The most common symptoms that sleep apnea patients experience are:
Loud Snoring
Loud snoring is not always a sign that you have sleep apnea, but many people who snore have sleep apnea. This is because the tissues of the throat relax during sleep and partially block the airway, causing the characteristic loud sound. If loud snoring is not related to sleep apnea, there are several other possible causes that your dentist can address. For example, you could grind your teeth at night. This condition can be alleviated with a night guard.
Frequent Gasping For Breath
It is common for people with sleep apnea to gasp for air as they fall asleep or wake up in the middle of the night. Because their airway is partially obstructed, they can't breathe easily through their nose and must work harder to pull in enough oxygen to survive.
The frequent gasps of breath are a sign that something is wrong with the body's respiratory system. In fact, if your partner wakes up gasping so often, you might want to look into getting them diagnosed with sleep apnea as soon as possible. 
Fatigue
Are you constantly tired during the day? Do you wake up at night feeling unrefreshed? These could be symptoms of sleep apnea, a condition that prevents people from breathing uninterrupted throughout the night. It's one of the most common sleep disorders and affects millions of people worldwide.
The condition causes you to wake up repeatedly throughout the night for periods of time that can range from a few seconds to more than a minute because your body doesn't have the opportunity to relax while sleeping, and your level of fatigue could persist throughout the day.
Excessive Daytime Sleepiness
If you suffer from excessive daytime sleepiness or feel drowsy during the day despite getting an adequate amount of sleep each night, you may have sleep apnea. Sleep apnea causes you to wake up repeatedly throughout the night as your body struggles to breathe properly. This interruption in your normal sleep patterns can cause extreme fatigue and leave you feeling sleepy during the day.
Morning Headaches
The headache is caused by the lack of sleep and the stress on your body. It's the kind of pounding pain that makes it difficult to think straight or function normally throughout the day. Getting up in the morning becomes difficult due to the intense throbbing in your head. And the headache only seems to get worse as the day goes on. 
Dry Mouth or Sore Throat
While sleep apnea can occur at any age, it is particularly common in adults over the age of 40. This is why it is common to see symptoms of dry mouth and sore throat in older adults. These symptoms may be the only sign that an apnea sufferer is suffering from obstructive sleep apnea since many of the symptoms of sleep apnea occur while sleeping.
Depression or Anxiety
Snoring is a symptom of sleep apnea, so if you think you might be suffering from it, then you might notice that you are anxious or depressed more often than you used to. This is because your quality of sleep has been diminished by sleep apnea, and your body's hormonal levels will not be as balanced as they should be.
Please reach out to Montpelier Dentistry in Laurel, MD, to have a consultation with our dentist, Dr. KoilPillai. Please call us at (301) 604-0025 or schedule an online consultation, and we'll guide you further.