HealthyStart® System - Everything You Need to Know
Posted by MONTPELIER FAMILY DENTISTRY on Mar 4 2022, 10:41 AM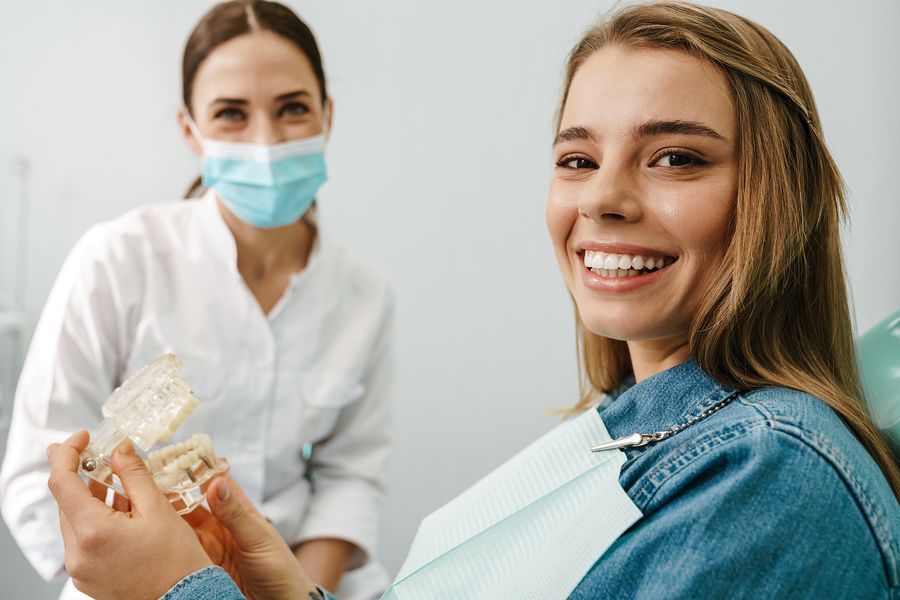 Did you know it is estimated that nine out of ten children suffer from Sleep Disordered Breathing (SDB)? If your child snores or gasps during sleep or doesn't sleep well, they might be suffering from SDB. The sounds of snoring and gasping are the easiest detectable symptoms of this condition. However, sometimes, the symptoms of SDB may appear less obvious and are marked by mouth breathing, headaches, teeth grinding, headaches, or bed-wetting.
Children with SDB also experience a large number of debilitating health disorders that include the following: 
ADD/ADHD
Lower IQ
Chronic Allergies
Aggressive Behavior
Mouth Breathing
Swollen Adenoids & Tonsils
Snoring
Frequent Headaches
Low Grades in Math, Science, & Spelling
Daytime Drowsiness
Crooked Teeth
Restless Sleep and Bed-wetting
Nightmares
Dark Circles Under the Eyes
Irritability
Arrested Growth
If your child exhibits any of these symptoms, it is important to schedule a consultation with the Montpelier Family Dentistry doctor and seek treatment at the earliest. The doctor will evaluate your kid's risk and suggest the HealthyStart™ System as a permanent solution if needed.
What is HealthyStart®?
The HealthyStart® System is an oral appliance therapy, a non-invasive, non-pharmaceutical, pain-free method that helps open the airway and straighten teeth without braces. It consists of a set of appliances that also addresses Sleep Disordered Breathing resulting from oxygen deprivation. The system promotes the proper development of the jaw and airway to optimize airflow and stimulate proper breathing, thus helping in alleviating most of the symptoms of SDB. 
How HealthyStart™ Works
The HealthyStart™ System comprises a sequence of orthodontic and orthopedic oral sleep devices that support correct alignment and development of teeth, jaw, and mouth as the child grows. When the lower jaw and teeth are correctly aligned while the child is still growing, creating a clear airway that annihilates SDB and later straightens teeth without braces is possible. 
When HealthyStart™ therapy is introduced early, it can serve as a permanent solution that enables lifelong healthy breathing.
What Problems Does the HealthyStart™ System Address?
The HealthyStart™ System can fix the following development and sleep problems in children:
address the symptoms of Sleep Disordered Breathing 
develop the jaw and airway 
promote nasal breathing 
treat gummy smile
straighten teeth without braces 
correct tongue thrust 
position tongue properly 
eliminate finger sucking, thumb sucking, and mouth breathing 
correct dental conditions like overbite, overjet, open bite, crossbite, crowded teeth, crooked teeth, and gummy smile
To learn more about the HealthyStart® System, please reach out to Montpelier Dentistry in Laurel, MD, and have a consultation with our dentists. Please call us at (301) 604-0025 or schedule an online consultation, and we'll guide you further.